Special interview with Jason Crawford, the author of The Roots of Progress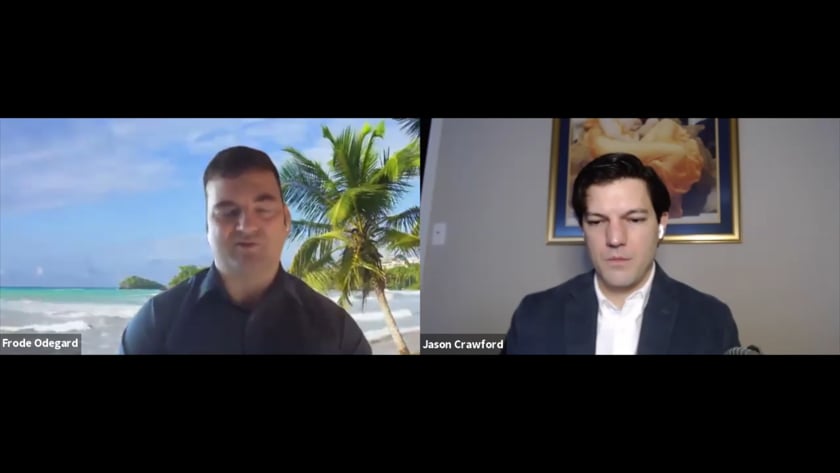 28 July, 2020
Ten thousand years ago, the first humans transitioned from hunting and gathering to agriculture. Today we enjoy planet-wide communication, modern medicine, and goods manufactured by machines. We are launching spaceships into orbit and have begun to modify our own DNA.
Many take all this progress for granted, but progress is more fragile than we think, and a brilliant future for humanity is not guaranteed.​​​​ We will speak with Jason Crawford about how far humans have come, and discuss the ingredients that have fueled our progress.
Now the world is in turmoil from a worldwide pandemic, authoritarianism is on the rise, geopolitical tensions are increasing, and the economy is in shambles. Many policymakers are skeptical of growth and technological progress. How do we ensure that humanity continues to advance on Earth and beyond?
Don't miss this conversation about a subject which will inspire you to Think Bigger.
We discussed:
Why so many take progress for granted
The "secret ingredients" that power progress
What Jason has learned from studying the
surprising history of science and technology
The impact of the Covid-19 pandemic
Is progress in danger of slowing down?
Marc Andreesen's essay "It's time to build"
The emerging field of Progress Studies
Teaching Progress Studies to young people
What policymakers, investors, and corporate
leaders can do to ensure future progress
Jason Crawford is the author of The Roots of Progress, where he writes about the history of technology and the philosophy of progress. He is also the creator of Progress Studies for Young Scholars, an online learning program for high schoolers; and a part-time adviser and technical consultant to Our World in Data, an Oxford-based non-profit for research and data on global development.
Previously, he spent 18 years as a software engineer, engineering manager, and startup founder. From 2013–2018, he was co-founder & CEO of Fieldbook, a hybrid spreadsheet-database. He has also been an engineering manager at Flexport, Amazon and Groupon, and a co-founder or early employee at other startups. Before that, he was a research engineer at D. E. Shaw Research, working on a new supercomputing architecture for computational biochemistry.
Jason holds a Bachelor's Degree in Computer Science from Carnegie Mellon University.
Frode Odegard is a thought leader in post-industrial management science. His major focus is on how corporates, investors and policymakers can best navigate humanity's transition to a post-industrial civilization and economy.
A serial entrepreneur since his high school years, Frode's multi-disciplinary background stretches from theoretical computer science to the boardroom. He has a deep background in organizational design and a passion for history, linguistics, disruptive technologies, and philosophy. When not at work on post-industrial management tools, he is in the dojo practicing traditional Iwama style Aikido.
About the Post-Industrial Forum
Brought to you by the Post-Lean Institute in collaboration with industry partners, the Post-Industrial Forum is a unique global community with the purpose of developing and promoting a better understanding of the post-industrial transition and how to navigate it. Members include corporate executives, board members, investors, entrepreneurs, policymakers, and experts in various fields.