What will it take for Distributed Ledgers to
become the backbone of the
post-industrial economy?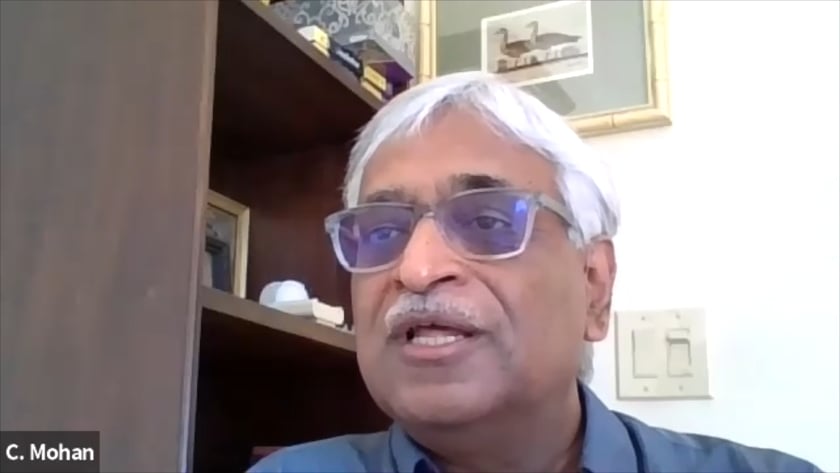 14 July, 2020
Starting with Blockchain, Distributed Ledger Technologies (DLTs) have been presented as a new paradigm of computation, enablers for business decentralization, and a mechanism for building uniquely attractive business models. And yet, the revolution is taking longer than people expected. In this session we will discuss why and explore what comes next.
We discussed:
The origin of distributed ledgers
Their adoption so far, investment trends
Weaknesses of first and second generation DLTs
How will these problems be addressed
in the next generation of DLTs?
Regulatory obstacles to adopting DLTs
The DLT landscape in 3-5 year
The most exciting applications coming next
Dr. C. Mohan is currently a Distinguished Visiting Professor at Tsinghua University in China and an Honorary Advisor to the Tamil Nadu e-Governance Agency (TNeGA) in India.
Mohan retired in June 2020 from being an IBM Fellow at the IBM Almaden Research Center in Silicon Valley.
Mohan was an IBM researcher for 38.5 years in the database, blockchain and related areas. Since 2017, he has been an evangelist of permissioned blockchains and the myth buster of permissionless blockchains. In 2019 he became an Honorary Advisor to TNeGA in Chennai for its blockchain and other projects.
Mohan is a Fellow of ACM (2002) and IEEE (2002). He also served as the IBM India Chief Scientist (2006-2009). He was elected to the US and Indian National Academies of Engineering (2009) and named an IBM Master Inventor (1997). Mohan received his PhD at the University of Texas at Austin (1981). He is an inventor of 50 patents and has given talks in 43 countries
Frode Odegard is a thought leader in post-industrial management science. His major focus is on how corporates, investors and policymakers can best navigate humanity's transition to a post-industrial civilization and economy.
A serial entrepreneur since his high school years, Frode's multi-disciplinary background stretches from theoretical computer science to the boardroom. He has a deep background in organizational design and a passion for history, linguistics, disruptive technologies, and philosophy. When not at work on post-industrial management tools, he is in the dojo practicing traditional Iwama style Aikido.
Toby Lewis is the CEO of Novum Insights in London, a frontier technology market monitoring company.He is also the co-founder of Global Corporate Venturing. Toby is a serial entrepreneur, and well-known analyst in the fields of blockchain, artificial intelligence, robotics, FinTech and venture capital.
Lewis was one of the co-founders of venture capital analyst company Global Corporate Venturing, where he led both the analytics team and its editorial efforts. Lewis has written regularly for the Wall Street Journal and spoken at numerous international technology conferences. These include Blockchain for Humanity, which took place during the World Economic Forum, Global Technology Symposium, South Summit, White Bull, Tech Tour and Global Corporate Venturing.
Jonathan Levi is the CEO of HACERA and the chair of the Token Taxonomy Framework, at the InterWork Alliance. He is an accomplished applied mathematician and cryptographer, who specializes in building large scale quantitative systems. Previously he was an Executive Director in Goldman Sachs, was the global head of Credit Analytics in Barclays Capital during the credit crisis and Standard & Poor's.
Jonathan founded HACERA, in the US in 2016, switching the focus from his Applied Mathematics graduate studies at Stanford University and shortly after leaving IBM Research, where he was in charge of the Identity and Privacy of the Open BlockChain (OBP) project. The project was open-sourced by IBM and HACERA as Hyperledger Fabric, the most widely used enterprise blockchain framework.
HACERA develops distributed security products, technologies, and platforms that are fueling some of the world's most valuable financial and supply-chain networks today with Secure Multi-party Data & Digital Asset Exchange at scale.
About the Post-Industrial Forum
Brought to you by the Post-Lean Institute in collaboration with industry partners, the Post-Industrial Forum is a unique global community with the purpose of developing and promoting a better understanding of the post-industrial transition and how to navigate it. Members include corporate executives, board members, investors, entrepreneurs, policymakers, and experts in various fields.