How can boards tackle tech disruption and the pandemic at the same time?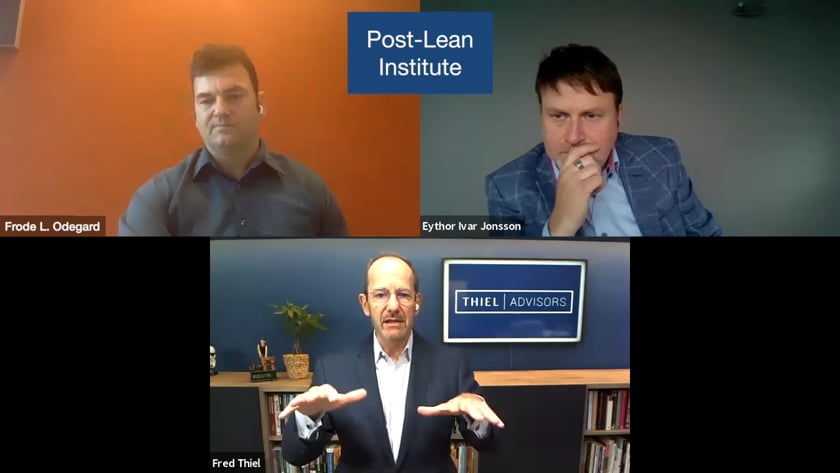 11 August, 2020
To better understand how enterprises are navigating the pandemic, we have to start with the board.
Corporate boards face unprecedented challenges. Prior to the pandemic, many companies were already working to meet the challenge of tech disruption. Most of them were already undergoing a transformation effort. Now this effort must be accelerated, but the organization is under more stress and may have fewer resources. In this session we explored how boards can better navigate this challenge.
We discussed:
Impact of the Social Distancing Economy
Transformation: Best practices for boards
How hands-on should boards be in the current crisis?
The role of the Board Chair
What boards must ask from management
Short-term crisis versus long-term value creation
Frode Odegard is a thought leader in post-industrial management science. His major focus is on how corporates, investors and policymakers can best navigate humanity's transition to a post-industrial civilization and economy.
A serial entrepreneur since his high school years, Frode's multi-disciplinary background stretches from theoretical computer science to the boardroom. He has a deep background in organizational design and a passion for history, linguistics, disruptive technologies, and philosophy. When not at work on post-industrial management tools, he is in the dojo practicing traditional Iwama style Aikido.
Eythor Ivar Jonsson is the VP of Research at the Post-Lean Institute.  He is also the President of Akademias and the Center for Corporate Governance in Iceland. Eythor is furthermore the VP of European Academy of Management (EURAM).
In 2006 Eythor founded an advisory board program in collaboration with Copenhagen Business School which has spawned advisory boards for more than 100 fast-growing Nordic companies.
Eythor has created programs for Icelandic companies to improve the corporate governance in association with NASDAQ OMX, Chamber of Commerce and the Federation of industries, as well as accounting firms like KPMG, PWC and Deloitte. He has published more than 700 articles for specialized journals and magazines about business and economics.
Eythor earned his doctorate in business administration from the Henley Business School at the University of Reading.
Fred Thiel is the Chairman of the Board of Advisors at the Post-Lean Institute. He is a senior trusted advisor to management teams, boards of directors, private equity and venture capital firms and their portfolio companies. Fred sits on a number private and public company boards, including Marathon Patent Group (NASDAQ: MARA), OptConnect, GateKeeper Systems, Oden Technologies, NoCell Technologies, Sequent Software, and Dorner Manufacturing.
Fred has over 25 years operating experience leading companies in the technology, data communications, Internet, IoT, AI, automation, Big Data, digital media and software industries.  As a CEO, he has led companies through rapid growth to IPO, repositioned companies for high value exits to strategic and financial acquirers, led M&A and roll-up strategies, as well as successfully executed corporate turn-arounds and wind downs. Fred has repeatedly driven rapid growth and generated hundreds of millions of dollars in shareholder value.
Fred is a respected expert and frequent speaker on the digital transformation of companies and industries. He provides deep technology industry expertise, and strategic advice on transformational value creation – the process of generating exponential growth in  shareholder value.  Fred  is also frequent speaker and futurist in the areas of IoT, smart systems, collaborative and autonomous systems, artificial intelligence, digital humans, financial technology, blockchain, next-generation payment systems, predictive analytics and Big Data.
Fred is a 20 year member of Young President's Organization (YPO), and the immediate past Chair of the YPO Technology Network. He attended classes at the Stockholm School of Economics and executive classes at Harvard Business School. Fred is fluent in English, Spanish, Swedish and French.
About the Post-Industrial Forum
Brought to you by the Post-Lean Institute in collaboration with industry partners, the Post-Industrial Forum is a unique global community with the purpose of developing and promoting a better understanding of the post-industrial transition and how to navigate it. Members include corporate executives, board members, investors, entrepreneurs, policymakers, and experts in various fields.