Accelerating corporate renewal
amid industry disruption
January 15, 2020
SRI International
Menlo Park, California
Post-Industrial Forum
Silicon Valley launch
Corporate lifespans are shrinking. Going beyond digital modernization to improve existing businesses, how can corporations create the new businesses they need for tomorrow?
Read more about the Silicon Valley launch of the Post-Industrial Forum below and watch the videos.
The Post-Industrial Forum launches in Silicon Valley
Brought to you by the Post-Lean Institute in collaboration with industry partners, the Post-Industrial Forum is a unique global community with the purpose of developing and promoting a better understanding of the post-industrial transition and how to navigate it. Members include corporate executives, board members, investors, entrepreneurs, policymakers, and experts in various fields.
More than a hundred people had signed up for our inaugural event in Silicon Valley. The event was hosted by SRI International (formerly Stanford Research Institute), a source of innovation and inspiration that goes back to the late 1940s, well before Silicon Valley existed as a name. SRI helped create the Internet, intelligent agents (Siri), and modern windows-based user interfaces.
Keynote speech by Frode Odegard: Accelerating corporate renewal
Stephen Ciesinski, former President of SRI, welcomed the audience and introduced the keynote speaker, Frode Odegard, Founder of the Post-Lean Institute and the Post-Industrial Forum. Frode spoke about the post-industrial transition and the new management thinking needed for enterprises to survive the onslaught of industry disruption. Frode also touched upon the generational shift that is now taking place. Millennials now comprise half of the workforce, and enterprises need deep change to effectively recruit young innovators.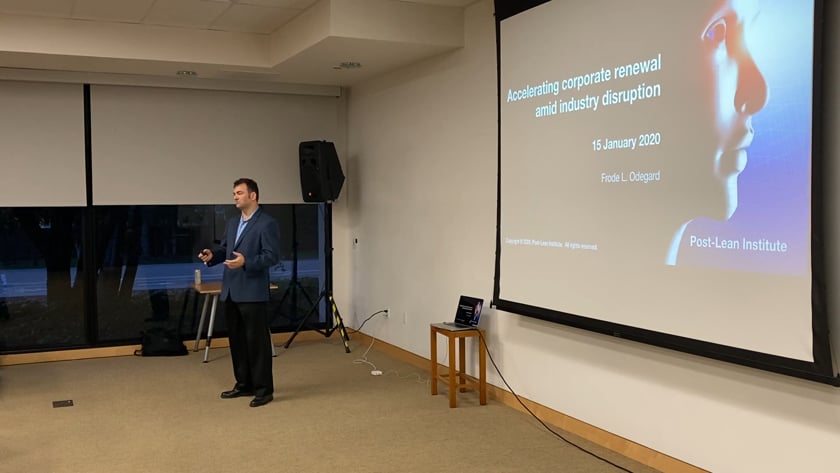 Panel discussion: practical steps to accelerate enterprise renewal now
Our panel of experts was lead by Stephen Ciesinski. It featured Dr. Yossi Feinberg from the Stanford Graduate School of Business, Amar Hanspal, former co-CEO of Autodesk and now CEO of Bright Machines, Patrick Suel, CEO of Diamond Edge Ventures, the corporate venturing arm of Mitsubishi Chemical. Frode Odegard also joined the panel.  Speaker biographies below.
The panel and audience discussed a number of challenges faced by firms today, such the degree to which leaders understand they need to change faster, what assumptions and practices no longer work, how to accelerate change, and whether/how companies should be doing internal innovation as opposed to investing in new technology.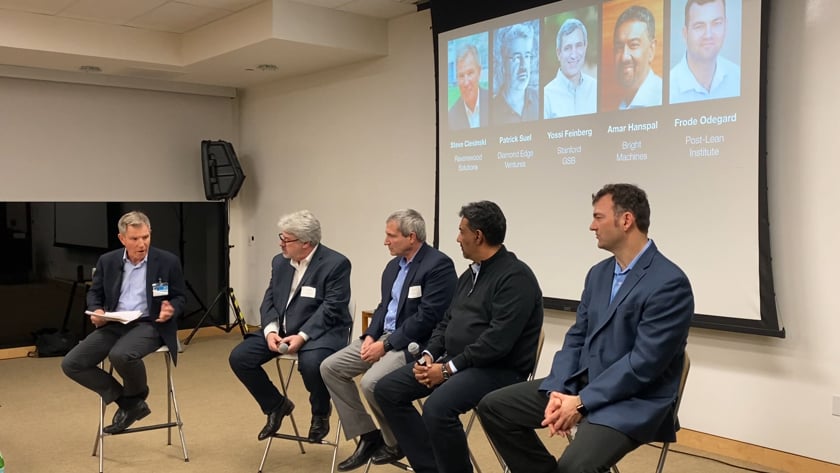 An ambitious agenda for 2020
Frode Odegard closed the event by revealing the Forum's plans for 2020, which include summits in Silicon Valley and London, and a series of Deep Drives in both locations, workshops where a limited number of attendees will be able to focus on one specific challenge related to industry disruption and the future of business. The topics will be chosen based on member feedback.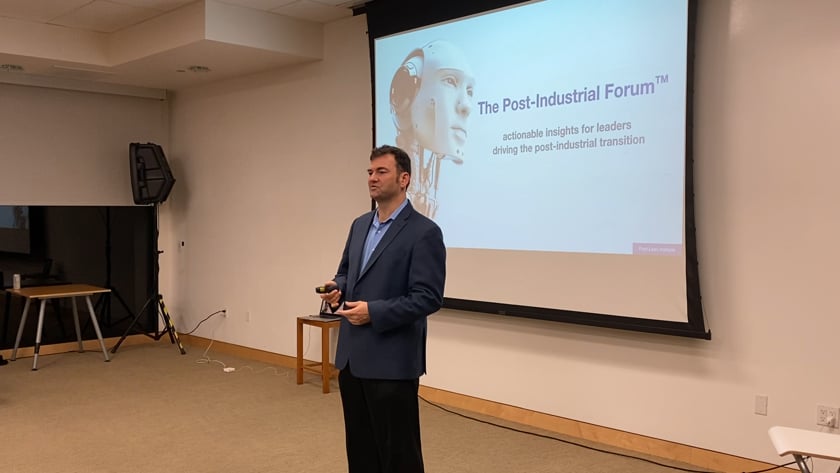 Speaker biographies
Frode Odegard, Chairman and CEO
Post-Lean Institute
Frode is a thought leader in next-generation, post-industrial management science. His major focus is on how corporates, investors and policymakers can best navigate humanity's transition to a post-industrial civilization and economy. A serial entrepreneur since his high school years, Frode's multi-disciplinary background stretches from theoretical computer science to the boardroom. He has a deep background in organizational design and a passion for history, linguistics, disruptive technologies, and philosophy. When not at work on post-industrial management science, he can be found in the dojo practicing traditional Iwama style Aikido.
Steve Ciesinski
Past President and Senior Advisor
SRI International
Stephen ("Steve") is Past President of Silicon Valley-based SRI International, one of the world's leading independent R&D organizations, with annual revenues of approximately $500M. SRI's innovations have led to new products, businesses and industries that impact people's lives every day-from the computer mouse, interactive computing and Siri, to HDTV, medical ultrasound, drugs for cancer and infectious diseases, and many more. SRI spins out 6-10 new ventures every year, and works very closely with companies of all sizes to develop technology-based disruptive innovations. Previously, Steve held executive management positions with Applied Materials, the global manufacturer of semiconductor capital equipment; Octel Communications, the worldwide leader in voice-messaging products; Resumix, the inventor of Web-based personnel recruiting applications; and Laszlo Systems, a pioneer in Web 2.0 software. He started his career at Procter & Gamble, was a consultant with Booz, Allen & Hamilton, and also served as a venture partner with Earlybird Ventures. Steve is also a faculty member at the Stanford University Graduate School of Business. He's created and teaches courses on entrepreneurship in developing economies, and also lectures in the executive education programs.
Amar Hanspal, CEO
Bright Machines
Amar is the CEO of Bright Machines where he leads a team focused on applying intelligent software to manufacturing to constantly improve the accuracy, quality and performance of production lines. He's a senior leader with 30+ years of experience driving business and technology transformation. Previously Amar was co-CEO and chief product officer at Autodesk where he oversaw the company's entire software portfolio, including its innovative manufacturing and construction applications. He led Autodesk into the cloud and enabled the company's 12 million customers to access their designs on nearly any device. In addition to sitting on Bright Machine's board, Amar also sits on the board of eSilicon Corporation and advises early stage venture companies.
Patrick Suel, President
Diamond Edge Ventures
Patrick has over 15 years experience managing Corporate Venture Capital funds for international companies. He joined Mitsubishi Chemical Holdings Corporation in 2018 to establish a new Corporate Venture Capital operation in California, Diamond Edge Ventures, as its President. Prior to this position, he was with Panasonic Ventures, the CVC arm of Panasonic Corporation, starting in 2006. As the only investor at Panasonic he was solely responsible for identifying, negotiating and leading investments in startups which strategic technologies could be integrated into Panasonic products through deep technical collaborations with Panasonic's Japanese corporate R&D and business units. Patrick has completed investments in Nanotechnologies & Materials, Medical Devices, Semiconductors, Software and Energy. He previously worked as a Venture Partner for SKG Ventures, Korea SK Global's CVC arm and was a Software executive with various venture-backed Silicon Valley startups in Artificial Intelligence, Financial Services, Enterprise Software and Software Tools where his contributions resulted in two IPOs and two M&A exits. As an entrepreneur, Patrick also founded three startups in Internet Software, Biotechnology and Medical Devices. Patrick holds a MSc. in Artificial Intelligence and a MSc. in Physics.
Yossi Feinberg
The Adams Distinguished Professor of Management and Professor of Economics
Stanford Graduate School of Business
Yossi Feinberg received his PhD in Mathematics from the Hebrew University in Jerusalem in 1997. His thesis studied how differing prior beliefs of decision makers can be expressed by their disagreement on current (posterior) events. After completing his dissertation under the supervision of Nobel Laureate Professor Robert J. Aumann, Yossi began teaching economics at Kellogg Graduate School of Management. Yossi joined Stanford GSB in 1998. His teaching interests include Economics of Organization, Managerial Economics, Strategy, Information Markets, Game Theory and Applied Decision Making. In 2003 he received the MBA distinguished teaching award.
Yossi's recent research interests include, for example, the analysis and implication of strategic decision making in the face of unawareness. He has modeled games with unawareness and their solutions. In these games each decision maker can reason about the extent to which others may only have a limited perception of the full scale of the economic interaction at hand. Yossi was an Associate Editor of the Journal of Economic Theory and is serving as a referee for all major microeconomics journals. He has given numerous invited seminars as well as multiple plenary talks at academic conferences.
Yossi has been consulting in a wide range of industries including hi-tech, media and healthcare as well as giving invited talks on topics such as pricing, the sub-prime crisis, in-house vs. outsourcing, allocating decision power in organizations and strategic interactions. He is the faculty director of Stanford Ignite, a global innovation program running on the Stanford Campus.